Do you remember when you were a kid and you made that Father's Day pencil cup in art class. I know some dads, mine included, who kept that pencil holder on their desk for years. As cherished a gift as it is, this Father's Day, give dad something that hasn't been done a gazillion times. With a little help from mom and a few inexpensive craft items, kids can make their dads a homemade Father's Day gift that they too will keep for years to come.
Does daddy like to snack? Make a Snack Jar. You will need a large mason jar with a lid, a large adhesive label, crayons, markers, glitter, glue, ribbons and dads favorite snack such as jelly beans, nuts or M&M's. Your child can decorate the label and embelish it with glitter if desired. When it is finished and dried, peel it off its backing and put it on the jar. Fill up the jar, seal the lid and tie it with ribbon.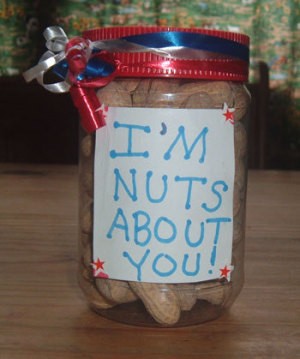 Does day love music? Make a Record Clock. He may no longer have a turntable to those old albums that are collecting dust in the basement make really great wall clocks. You can purchase a clock kit at a craft store for about $5. Take his favorite old 33 rpm album and mount the clock kit through the center hole. It won't damage the record. If the record is already scratched and you know dad won't ever play it again, you can also add stick-on numbers (which may actually hide the scratches). Dad will proudly display this gift for years to come.
Does he love to work on the yard? Make a Stepping Stone. You can buy a kit but they are so easy to do it yourself. You will need a mold – it can be a plastic planter saucer, or a disposable cake tin, cement, and personal trinkets such as marbles, game pieces from a game that dad and child enjoy or other momentos or decorations. Finding a few things that can turn this into a time capsule of sorts will really make it special. The most important thing of all is leaving a hand prints, the date and the child's name.
Is Dad a tech guy? Make a Lego iPhone/Smartphone Stand. This gives kids a chance to use there imaginaiton. It can be simple or elaborate. This can become the new replacement for the old pencil cup.
Dads will love anything a child makes, even if it is as simple and a hand made Father's Day card.  And dads – make a big fuss no matter how big or small the homemade gift because your child put all of his or her love and ability into making it especially for you.
Happy Father's Day to you from everyone at Wholesale Halloween Costumes.